According to the Department of Environment, Parks and Recreation (JASTRe), approximately 400-500 tonnes of waste are delivered to the landfill in Sungai Paku, Tutong every day. In 2015, it was estimated that one person generates 1.4 kg of waste per day where 18 percent of which is paper.
As leaders, EnEvo Sdn Bhd strives to create solutions to global environmental sustainability challenges. In conjunction with the 50th Anniversary of Earth Day, along with the support of Department of Environment, Parks and Recreation, Ministry of Development driven by its 'Take Your Action, Make A Difference" campaign, EnEvo Sdn Bhd is sponsoring its tissue product to all individuals participating in the Earth Day initiative via JASTRe and EnEvo Instagram platform @jastre.bn and @enevo_bn from 22nd April to 30th April 2020. Private companies such as SC Tubular Solutions (B) Sdn Bhd, Bank Usahawan, and Dimension Company are also setting their corporate social responsibility role in making their positive impact to the society.
On 28th April 2020, Bank Usahawan has sponsored 200 packs to various recipients including Kuala Belalong Field Studies Centre (KBFSC). Presenting the donation to Dr Rahayu Sukmaria Haji Sukri (Director of IBER) was Puan Martinah Hj Tamit (Acting Director of JASTRe, Ministry of Development). Also present at the event were Hjh Masnah Hj Mirasan (Head KBFSC), Mr. Tan Thiam Kui (EnEvo Director), Dyg Siti Norasyidah Hj Kariya (EnEvo Director).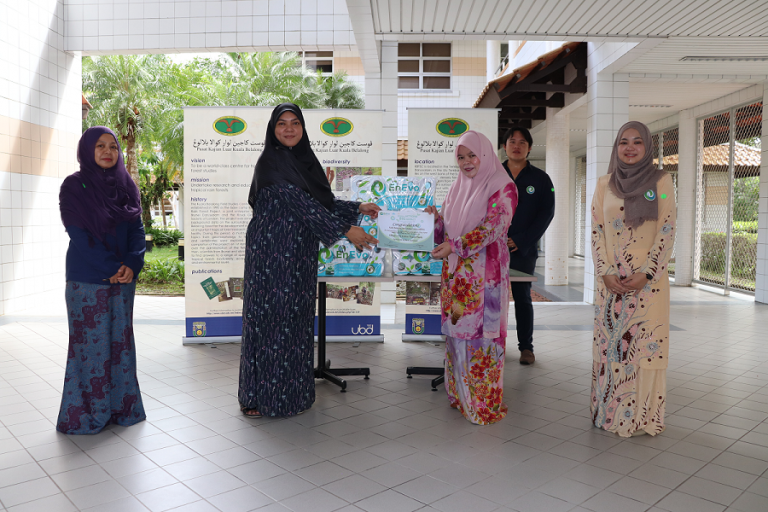 Being Brunei's very first locally produced tissue product, EnEvo tissue brand is created with the purpose to sustain our planet, using solely by recycling collected paper pulp. With these tissues, EnEvo Sdn Bhd has encouraged their consumers to pledge to:
Save trees
Be part of the solution for Brunei's waste management strategies
Develop highly specialised Bruneians
Contribute to Brunei's Economy
Make Wawasan 2035 a reality
EnEvo, an acronym from Environmental Evolution, was formally established in 2016  by Mr. Tan Thiam Kui and Dyg Siti Norasyidah Hj Kariya and was later joined by Mr Frederick Wong.
Dyg Siti Norasyidah is an UBD alumnus and she has been actively assisting with the KBFSC Environmental Education Programme under IBER's volunteering initiatives, 'Friends of Belalong' since 2017.
Text by: Siti Norasyidah & Roshanizah Rosli (IBER)
Photo by: IBER