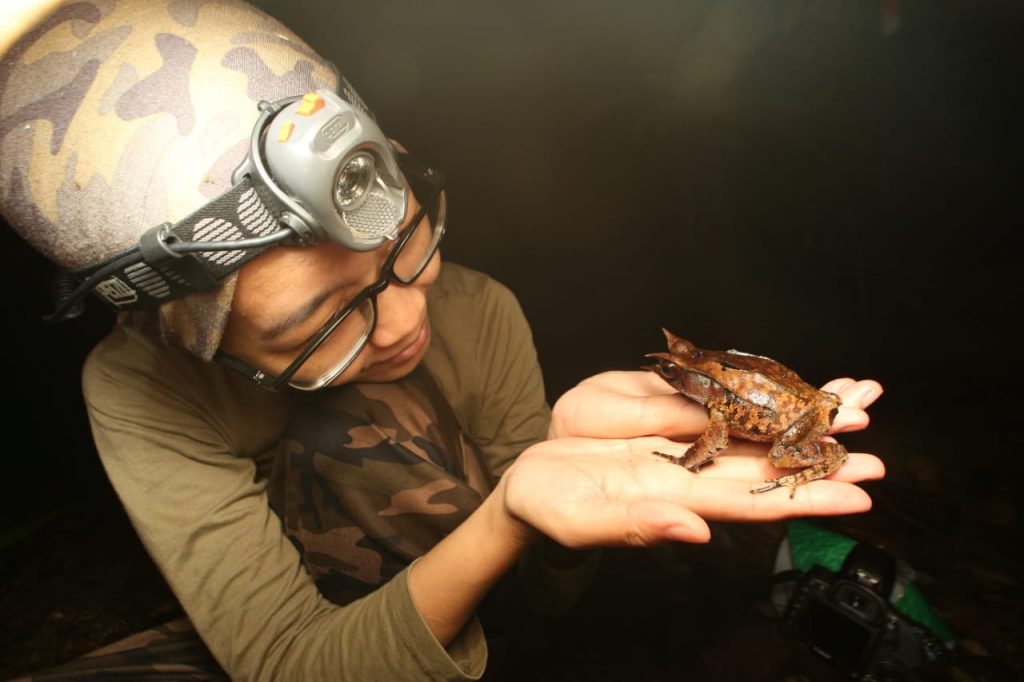 1. How long have you worked as a Research Assistant? Any volunteering? What is your official employment now? How has COVID-19 affect you?
"I have been going to the forest 15 years since my final year project 2007. It started with my project on frog biting midges with Prof Ulmar Grafe (Faculty of Science).  Volunteered for Biodiversti Conference in 2007. My recent volunteering is on a hornbill project for Dr Salwa Khalid under Friends of Belalong (FoB). The reason why I want to volunteer was to explore and also for the knowledge. If I were to do another project in the future, I would know where to go in Brunei. COVID-19 had affected my work at Ulu-Ulu Resort but despite that I am officially employed as a Research Assistant under Institute for Biodiversity and Environmental Research (IBER)."
2. What is your area of research?
"It is actually quite vast… mostly on vertebrates. Before it was on frogs and then I went general in terms of looking at diversity. Now I look at snakes. What kind of snakes are there in Brunei… and also birds. Mostly distribution. Dr Salwa fauna of Ulu temburong. I am interested in insects as well like spiders. I want to know the general diversity because no one is doing this for local level. We don't have any expertise. In contact with Mandai people of Singapore Wildlife Reserve. I had to supervise German students while doing PhD at UBD. I also engage with people using Facebook as my platform for social media. I want to share what we have in Brunei as not many people are doing it and not many people had the accessibility for this."
3. Why are you interested in this field?
"Before going to UBD, I was thinking that if I were to work, I would work with forest people because I thought that animals are dangerous so plants would be safer. But Prof Ulmar was there working with frogs so somehow I wanted to do a research on them. I went with him to expeditions before I did my Masters. I got interested in frogs. I went out to the "real forest". Our mindset was that the forest is somehow dangerous but when I went with the German, it was not bad as long as your intentions are good. So that lead me to thinking I should do a Masters. Sometimes it is about the opportunities as well and also the passion because I like wildlife. I want to protect them because they don't have a voices of their own. Somebody needs to do it for them. They need an ambassador for the wildlife. In Brunei, there are not many people interested in this field. There more "plants people" compare to "animal people".
I also like photography another passion of mine. I am keen to go on to the forest and make a visual documentation of Brunei's diversity. I have done exhibitions before during the Brunei Natural Festival in 2018 but there were only 2 photographers including me and one from Sarawak, a Dutchman. I would sell my photos if people want them."
4. Do you do it for the money?
"No actually… but I have pay for the bills. Before, it was a passion of mine, sharing my photos and I had income but right now I feel it is a motivation or appreciation for people to buy my photos. It is difficult to find job now. It is like a gift to turn into money. But it is not all about money. Money is second. I am very lucky to be the forest to capture the photos and people can appreciate."
5. Any related involvements outside employer UBD? NGOs?
"I'm collaborating with BruWILD, providing photos for educational purpose. For example on insects. I am also a member of Brunei Nature Society. At the moment, I am handling their social media. I try to chase other people for photos to share on the platform for awareness. If people are aware, they would appreciate."
6. Message for the younger generation?
"In terms of my passion. Because we are very limited. Like me and Joremy, we don't have other people to continue our work. We need more people. Because it is not a one man job. We need more like minded people to do the conservation work. To go out there in the forest to protect not just animal but also their habitat. Photography is also a nice thing to generate income. I just had an invitation to write a biography. Because it is very limited. In Brunei, there is only one female herpetologist. If locals there is only me and Jo. Our team is only 3 including Prof Ulmar. Young people – don't be afraid of the forest and they need to try and see for themselves. I was afraid of the forest before. Because I tried it. I like it. It becomes a passion. You can work as an assistant. There is job waiting for you as a biologist. You are not just doing this for fun. It is livelihood. Just go out."
7. How has this benefit you?
"It is the experience. I do things first hand – not just hearsay. This skill is within me. Because of those skills, private companies are hiring me as a consultant for fauna survey. To do EIA (environmental impact assessment). Being a photographer, I am invited to be feature in exhibitions. JIS and ISB inviting to give talks. To be a role model and inspiration. In terms of manpower – I am like an asset for wildlife conservation. Because I did my PhD and I had the qualification to be a lecturer. To become a career."