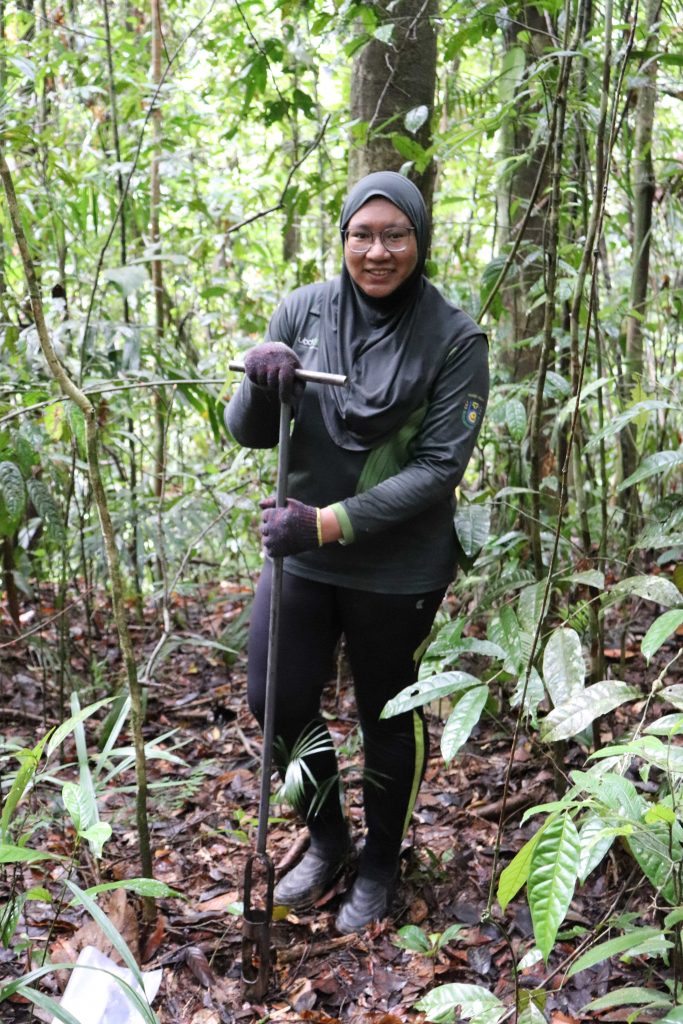 1. How long have you worked as a Research Assistant? Any volunteering? What is your official employment now? How has COVID-19 affect you?
"I have worked as a Research assistant since 2015 for Dr Rahayu. I have been teaching some course in substitute for her. Since COVID-19 happened, I have only been working in the laboratory looking at soil content."
2. What is your area of research?
"My area of research is on nutrient cycling in tropical forests. I have been trained to do soil analysis for pH, texture, plant nutrient analysis; maintaining spectrolyzer; measure organic carbon in Badas."
3. Why are you interested in this field?
"The rapid growth of the human population and urbanization over the past centuries have placed unprecedented demands on Earth's natural resources. Brunei's forests are considered as having invaluable natural resources filled with unique and exciting biodiversity. However, the accelerated loss of biodiversity and substantial alteration of ecological patterns that we are facing right now will potentially have devastating impacts on our tropical forests. This statement has somehow started myself to set a goal to personally and professionally commit to studying our biodiversity and finding solutions to this erosion of our natural resources."
4. Do you do it for the money?
"Yes."
5. Any related involvements outside employer UBD? NGOs?
"I have worked closely with international research collaborators, as well as a research assistant at UBD, thus gaining crucial skills and knowledge in biodiversity research. I have close links with the Forestry Department and the Brunei Heart of Borneo Centre, which I can further explore and expand upon to the benefit of IBER and UBD."
6. Message for the younger generation?
"My message for the youth is to not be be afraid to take chances. These days it is hard to find jobs. Cascade knowledge. Transfer skills. There is no boundary in research."
7. How has this benefit you?
"My years in UBD provided me with professional lab-based and field-based techniques and academic skills, while also training me in fundamental scientific, analytical and research skills and a deep understanding of the biological principles governing life and ecosystems and their applications. To complement my laboratory skills, I have also developed a skillset in tropical ecology field work techniques, directly learning from my supervisors as well as international researchers both fundamental and advanced skills in field biodiversity research. I have been fortunate to receive both my undergraduate and graduate education at UBD, which has afforded me numerous opportunities for field work and hands-on experience in Brunei's forests.  In total, I have seven years of research experience in Brunei's tropical forests, and I continue to be passionate about field-based biodiversity research and the values and importance of biodiversity."